Antimicrobial Additives Market to Grow due to Expanding Healthcare Industry – P&S Intelligence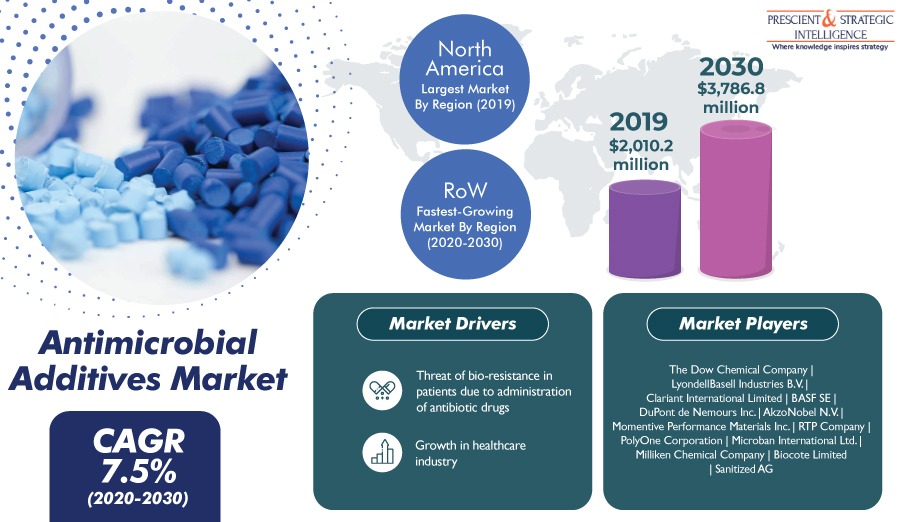 The global Antimicrobial Additives Market is advancing at a CAGR of 7.5% during the forecast period (2020–2030).
The global antimicrobial additives market size is predicted to generate a revenue of $3,786.8 million by 2030, rising from $2,010.2 million in 2019, advancing at a 7.5% CAGR during 2020–2030. The market is being driven by the expanding healthcare industry, threat of bio-resistance in patients owing to the excessive administration of antibiotic drugs, and integration of innovative technologies in product manufacturing. Based on type, the market is divided into inorganic and organic.
The antimicrobial additives market in North America registered significant growth during the historical period (2014–2019). The prevalence of HAIs has been increasing in the region rapidly, as the frequent use of antibiotics for treatments has resulted in the rising instances of bio-resistance. The high purchasing power of individuals in the region is further driving the demand for antimicrobial additives. The Asia-Pacific region is projected to register the highest CAGR during forecast period.
Request for sample copy of this report: https://www.psmarketresearch.com/market-analysis/antimicrobial-additives-market/report-sample
The threat of emergence of bio-resistance because of the increasing administration of antibiotic drugs in patients is a key trend in the antimicrobial additives market. Antibiotics are being adopted heavily for treating and reducing the risk of bacterial and fungal infections, which has resulted in the higher possibility of the emergence of pathogens that are resistive to such medication. The growing use of disinfection chemicals is further predicted to create resistance. The problem can be solved by the integration of antimicrobials while products are being manufactured, thereby driving the market.
The expansion of the healthcare industry is further a major driving factor of the antimicrobial additives market. The industry is witnessing growth due to the rising prevalence of chronic diseases and increasing geriatric population, majorly in developing countries. The increasing adoption of new drugs, accessories, technologies, and use of products such as antimicrobial additives are predicted to cause a technology shift in the industry, which will further lead to the growth of the market in the coming years.
Browse full report at: https://www.psmarketresearch.com/market-analysis/antimicrobial-additives-market
Market Size Breakdown by Segment
By Type
By Industry
Healthcare
Food and Beverages
Automotive
Consumer Goods
Packaging
Construction
By Region
North America
Europe

U.K.
Spain
Italy
France
Germany
Russia

Asia-Pacific (APAC)

China
Japan
India
South Korea

Rest of the World

Brazil
Mexico
Argentina
Turkey
Browse More Reports
Medical Adhesives Market – https://www.psmarketresearch.com/market-analysis/medical-adhesives-market-report
Packaging Adhesives Market – https://www.psmarketresearch.com/market-analysis/packaging-adhesives-market
Media Contact
Company Name: P&S Intelligence
Contact Person: Abhishek
Email: Send Email
Phone: +918887787886
Address:Noida Sector 2
City: Noida
State: UP
Country: India
Website: https://www.psmarketresearch.com/market-analysis/antimicrobial-additives-market