Wellington College Tianjin Receives Two Top Awards from 12th Xinhua Net Education Forum
Recently, Xinhua Net and INSIGHT Vision jointly held the 12th Xinhua Net Education Forum released its "Top 100 International Schools in China 2021 Report". Wellington College Tianjin was ranked 31st in China and top in Tianjin. The College was also awarded the "2021 China International Education Index Word-of-Mouth Competitive School" prize.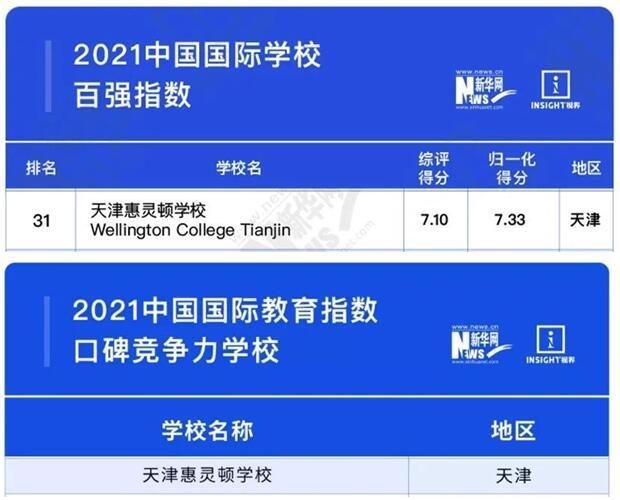 "It is our honour to receive this award. It is attributable to the concerted efforts of our staff, pupils and parents. We will stay true to our mission and continue to strive to help our pupils achieve the success they deserve."
Julian Jeffrey
Executive Master of Wellington College Tianjin
The award criteria was assessed over seven categories: promotional trends, faculty, quality of enrolled students, teaching management, campus management, reputation and both public and expert opinions. The "Top 100 International Schools in China 2021 Report", containing the list of China's top 100 international schools, was worked out through an overall assessment of qualifications. In addition to the general report, the "China International Education Index 2021" was assessed using four key criteria such as: artistic quality, scientific quality, word-of-mouth competitiveness and collective brand power.
Regarded as one of the best international school in Tianjin, Wellington College Tianjin stood out in the selection due to its strong faculty, outstanding academic achievements, efficient campus management, advanced facilities and teaching models, as well as its good reputation among parents both inside and outside the industry. This year marks the 10th anniversary of the College, which not only received offers from the University of Oxford, University of Cambridge and Ivy League universities this year, but has also snapped up several educational awards.
Dr. Yang Yang, Principal of Wellington College Tianjin was invited to discuss "How to train future-oriented high-quality international talents" with other executives from international schools in a roundtable discussion during the Xinhua Education Forum.
"Real international talents must be tolerant, visionary and capable of cross-cultural communication," she said. "So schools should create an international environment, in which children will naturally develop into international talents and local contributors."
With its mission in mind, Wellington College Tianjin continues to educate pupils through their Wellington values of kindness, respect, integrity, courage and responsibility and to prepare them for a future not yet known.
Media Contact
Company Name: Wellington College International Tianjin
Contact Person: Admission Department
Email: Send Email
Phone: (+86-22) 8758-7199 ext. 6027
Address:No.1 Yide Dao, Hong Qiao District
City: Tianjin
Country: China
Website: https://tianjin.wellingtoncollege.cn/