How To Start Selling On Amazon – A 3-Step Formula Live Training
Presented by Jason Fladlien, on how to start an Amazon business and the wholesale formula to profit from the biggest marketplace in the world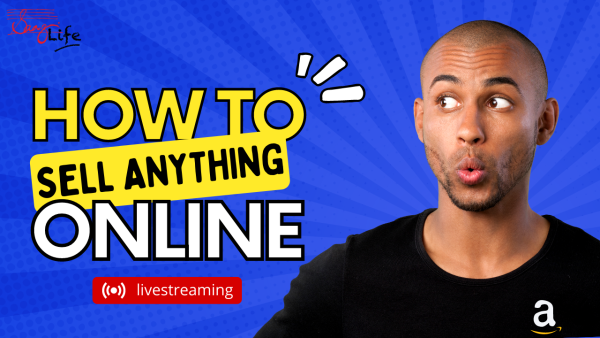 A lot of sources report that Amazon makes around 680 million every day, or around 7800 dollars every second. Given that Amazon has a huge number of third-party sellers, if a seller can follow a proven path, they can achieve success on Amazon like no other. The 3-Step Formula Live Training is an exclusive private webinar hosted by Jason Fladlien and presented by Anish Chatterjea of SaazLife LLC fame, where the host teaches their 3-step formula to crack the Amazon success code. The webinar is set to take place on Sept. 12th and the replay will be available till Sept. 15th.
Amazon is the best platform for starting or growing your business. The amazon FBA wholesale model is a low risk method especially when the right formula and strategy is used and implemented. After using this platform, numerous firms were able to succeed. However, the approaches vary depending on the type of strategy used to sell on Amazon. The "How To Start Selling On Amazon Webinar" will be held to assist individuals in becoming more successful than the other Amazon sellers.
People can learn about a 3-step process that helped 960 people sell over $1,057,143,592 on Amazon by attending this webinar and course. It is in excess of $1 billion. On Thursday, September 8th, the first webinar on this subject took place. The second webinar will be held on September 12th. SaazLife has arranged for this private webinar opportunity.
The most striking aspect of those 960 victories is the lack of any discernible "pattern." They came from various ages, backgrounds, and levels of experience. For the most part, they had never been prosperous online. Many started "The Wholesale Formula" methodology by implementing it part-time. Everyone managed to complete it safely and in a short time made it a full time business and income stream for themselves. Attending this webinar, which is being presented by one of the best online business trainers in the world, the attendees will discover the precise steps required to sell on Amazon and succeed.
Jason Fladlien, who has directly created more Amazon successes than anyone else worldwide, will be the instructor. The participants will feel confident in the amount of support they will receive from a skilled coach thanks to Jason's assistance. In addition to being able to get their questions and doubts answered during the live webinar, one will feel less alone on this trip. They will receive directions on how to get past the obstacles put in their path. Jason will show the exact step-by-step process on how to find these profitable products to sell on amazon, using a top-of-the-line research tool which is also being offered as a free bonus. The bonuses offered really complement selling on amazon with the FBA wholesale model strategy.
According to Anish Chatterjea, founder of SaazLife LLC and the sponsor of this webinar, "Amazon is the largest online retailer you might know. However, Amazon is no longer just that, though, it is presently the largest store on the entire planet. And unlike other internet retailers, it has not yet reached its peak. Consequently, one can comprehend the advantages and prospects that it will offer to business proprietors. When you join this webinar, led by one of the top online business trainers in the world, you'll discover the exact formula to sell on Amazon and see success in a very short time."
The topics that will be dealt with in the webinar include:
Amazon profits for non-entrepreneurs

How to turn pennies into thousands

Low-risk profits
As the presenter of The Wholesale Formula webinar, SaazLife is also offering a wide range of additional benefits such as:
Full and free access to a top research tool for finding profitable products

A done for you free website to lay a good business foundation

The resource vault of best resources, shortcuts, and processes for selling on Amazon and becoming successful in the overall eCommerce industry.

An exclusive business owner's playbook that will teach exactly how to think like a business owner

Access to coaching and support through a Facebook group where all the questions will be answered by a TWF coach.

TWF coaching to coach new customers in group coaching sessions.

Scouting by leveraging the proprietary scouting methods of Black Box Scouting, Amazon Filtering, and Super-Targeting to find lots of great wholesale product opportunities fast

A huge library of templates and resources including email templates, checklists, spreadsheets, fill-in-the-blank tools, and more

A lifetime update guarantee

App to improve listing and images in minutes

1-year access to trained and vetted VA placement program

And many more bonuses at the end of the webinar

Plus it comes with a no-questions-asked 30-day full money-back guarantee
The webinar will present attendees with modules for developing, automating, and expanding their Amazon-based online companies. In addition to having access to the best resources, the participants will learn about the various shortcuts and methods required to convert their enterprises into success stories.
To register for The Wholesale Formula webinar on "How To Start Selling On Amazon" by Jason Fladlien visit: http://www.saaz-training.com
Media Contact
Company Name: SaazLife
Contact Person: Anish Chatterjea
Email: Send Email
City: Vancouver
State: British Columbia
Country: Canada
Website: www.saaz-training.com