Cancer isn't a death sentence; it is simply a calling to live with more vivacity
A young woman's brief journey proves it's not the amount of time we have—but how we use it…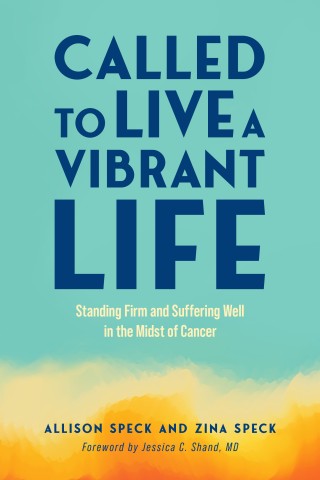 Marysville, Pennsylvania – 12 September, 2023 – Allie Speck was born into the world with a keen mind, an eagerness to connect with people, and intuitive compassion for others. Her journey on earth was short, but well spent—and in, Called to Live a Vibrant Life, readers are fortunate to hear her first-hand account of incredible faith and sacrifice during a five-year battle with cancer.
Right out of high school, 18-year-old Allie knew her next step—pursue a degree at a Christian college and spread God's love through missions. However, her life was quickly thrown off course when she was diagnosed with cancer. She clung to her conviction in Christ, had rounds of chemotherapy, surgery…and beat it. But the cancer eventually resurfaced—and this time, turned into a spiritual trial. Allie used every ounce of energy to remain steadfast in Christ—and allow Him to determine her fate.
"Written with transparent honesty and deep and abiding love, it's a journey that transformed the lives of others who came to know Allie and witness her faith and determination." — Kim Phipps, PhD President of Messiah University in Mechanicsburg, PA.
The 261-page memoir is published by Mercy & Moxie, an imprint of Orison Publishers, Inc. and is available online through the non-profit organization, alliespeck.org. The story intertwines journal entries from Allie, email correspondence with Allie's prayer warriors, and additional insight and narration from her mother, Zina Speck.
"Together, Zina and Allie journeyed through the horrors of cancer, wrestled with unanswered questions when God didn't make sense, and pressed on in unshakable hope in Christ. Called to Live a Vibrant Life is a story of love, hope, and joy as well as loss." — Peter Greer, President & CEO Hope International
Called to Live a Vibrant Life: Standing Firm and Suffering Well in the Midst of Cancer is published by Mercy & Moxie, an imprint of Orison Publishers, Inc. and is available for purchase at Amazon, Barnes & Noble and other retailers. For nearly two decades, Orison has specialized in giving Christian authors a platform to share their stories.
Media Contact
Company Name: Mercy & Moxie
Contact Person: Zina Speck
Email: Send Email
Country: United States
Website: www.alliespeck.org