PEEKIES see-through footie allows parents to immediately check a diaper, a revolutionary new design that makes a parent's life so much easier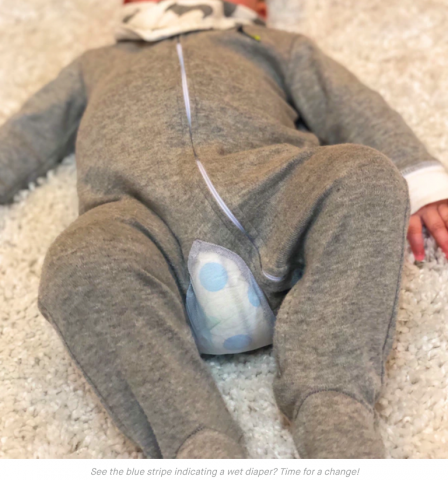 PEEKIES sleep n' play footies are the much-needed innovation in baby clothing, that provide the immediate answer to every parent's or caregiver's question, 'Is the diaper dirty?'. In normal circumstances, they would have to undress the baby to check, subjecting them to cold and discomfort but with these new footies by PEEKIES, the parents can easily check if their child's diaper is dirty or not. The PEEKIES footie comes with a mesh panel located in the crotch area which makes the baby's diaper plainly visible so there is no need to unzip, unbutton or upset the baby to check the diaper.
PEEKIES footie is first introduced on Kickstarter and providing a chance to the backers to pre-order the same at an early bird price. The patent-pending see-through mesh panel enables the parents to have a look at their baby's diaper to see if it has a yellow indicator strip, a dry diaper or a blue indicator strip and any evidence of soiling, which saves a lot of time and effort. Considering how busy life becomes for the new parents, saving even a little time can be a great relief.
In addition, the mesh panel provides much-needed ventilation and breathability to baby's crotch area by providing a comforting, sweat-wicking airflow. It also gives an extra stretch to the footie which makes it easier to dress up the baby. The PEEKIES footies are made with super-soft 100% cotton to be comfortable and breathable. Instead of buttons, it comes with a zipper which is easier to do. The zip guard on the top protects the baby's delicate skin.
PEEKIES footies are made in the USA by a female-owned and operated apparel manufacturer. There is no comparable product available in the market which is what makes this product truly unique. PEEKIES has also designed additional apparel like pants and onesies using its patent-pending technology. They will be offered for selling in the near future.
PEEKIES sleep n' play footies are available in sizes 0,3,6 and 9 months via Kickstarter.com.
Media Contact
Company Name: PEEKIES
Contact Person: Alexander E. Tiger
Email: Send Email
Country: United States
Website: peekiesbaby.com