LāErtes Muldrow's Cover-Up: A Mesmerizing Blend of Suspense, Futuristic Fantasy, and Drama
The new novel "Cover-Up" by LāErtes Muldrow intertwines the journey of an Olympic athlete with a world of corporate intrigue, advanced technology, and the looming promise of a changed future.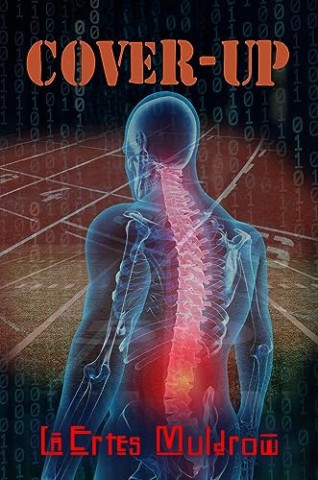 In a powerful melding of futuristic fantasy and mystery, renowned author LāErtes Muldrow introduces his latest masterpiece, Cover-Up. It is a novel that intricately weaves the destiny of an Olympic athlete with the world of cutting-edge technology, corporate power plays, and the ethereal boundaries of human potential.
Donovan Mocion isn't your typical protagonist. Once celebrated as the fastest man alive, he finds himself at the crossroads of tragedy and fate when a plane crash kills his scientist parents and leaves him paralyzed. In his challenging journey towards recovery, he uncovers more than just the remnants of his past: a technology, NEXUS, that promises a bright and ominous future.
Muldrow's narrative genius is evident as he delves into the complex web of corporate interests, personal vendettas, and the implications of unchecked technological advancements. Global Pharmaceuticals, a mega-corporation headed by the formidable Francine, becomes the center of intrigue as its clandestine activities echo larger questions about ethics, power, and the human spirit.
LāErtes Muldrow's skillful storytelling offers readers a clear, imaginative journey through every chapter, effortlessly transporting them from present realities to a future teetering on the brink of evolution. Beyond the captivating plot, Cover-Up is an exploration of self-identity, the weight of legacy, and the choices that define us.
One of the standout elements of the book is its palpable tension. From Donovan's transformation into 'Smoke' and his return to the sports world to the relentless pursuit by reporter Kilah, who is determined to unveil the truth, each turn of the page ratchets up the suspense. As the climax unfolds at Global Pharmaceuticals with revelations and doubts, the true scope of NEXUS's intentions emerges, promising an era where humanity might have to redefine its very existence.
Author LāErtes Muldrow shared, "With Cover-Up, I sought to blend the challenges of our current age with the possibilities of the future. It's a tale of resilience, discovery, and the age-old struggle between progress and consequence."
This engrossing tale stands as a beacon in modern literature, offering not just entertainment but a deep reflection on the implications of our actions today and the world they might shape tomorrow.
Whether you're a sci-fi enthusiast, a mystery lover, or someone who cherishes a well-crafted narrative, Cover-Up is sure to engage, provoke thought, and ignite conversations. Readers can dive into the gripping world of Donovan Mocion and uncover the mysteries that await. Cover-Up by LāErtes Muldrow is now available for sale on Amazon.
About the Author:
LāErtes Muldrow is a distinguished author known for weaving intricate tales that meld futuristic fantasy with gripping mysteries. His latest offering, "Cover-Up", further cements his reputation as a master storyteller who challenges the boundaries of imagination and reality.
Media Contact
Company Name: Vintage Ink Solutions
Contact Person: Jane Lopez
Email: Send Email
City: California
State: Laguna Beach
Country: United States
Website: vintageinksolutions.com